Powerful, reliable, sustainable
Need help or advice?
Call us free now on 0800 138 1177
Registered office
180 Attercliffe Road
Sheffield
South Yorkshire
S4 7WZ
Company No. 08156799



Manchester Bandwidth - Click here
'Avoid the London Detour' - efficient Manchester-based traffic

What we offer
Click here to find out more.
Welcome to Avensys Networks
Based in Sheffield but with a national network, our aim is to provide a fast, helpful and reliable service to our customers. We look after your network connectivity so that you can make the most of your time, focusing on your core business instead of having to worry about your Internet connection.
Why choose Avensys Networks?
We offer a high quality, tailored service at a sensible price. Our customers get a fast, reliable Internet connection, along with personalised help and support. To us, quality and reliability are more important than piling it high and selling it cheap; we think that in the long run you'd prefer it that way too.

Some reasons to choose us include:
We were established in 1996 and are expert at what we do - not many Internet providers have been going as long as we have!

We have an excellent reputation for reliability.

We provide a personal service and care about what we do.

We provide 24 hour support including an emergency contact number for out-of-hours issues, 365 days a year.

We are proactive, and our customers appreciate the time we spend keeping our network robust and up to date, solving issues before they turn into problems.

Our network uses high quality components, for example our routers are the latest Juniper MX series.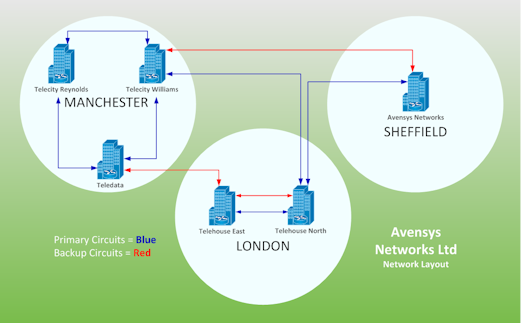 Please be Aware that our 0800 Phone Number has been Spoofed.
If you receive phone calls from this number it is not us, we do not use this number for outgoing calls.
We are being told the number is being used for unsolicited Sales Calls.
If you ascertain any information about the company doing this please let us know.
Thank you